Serra do Mar Etílica
R$418,00
Um dia diferente para conhecer Morretes e Antonina de outra maneira: com degustação de vinhos, cervejas artesanais, cachaça e ainda um passeio de barco! Venha conosco em grupinhos de 2 a 10 pessoas para esta aventura!
Important
How does the booking work? The most popular tours have immediate confirmation if seats are available and when booked at least 48 hours before. You will book online and as soon your payment is authorized, you will get the confirmation by e-mail.
And if the booking is for less than 48 hours later? In this case, contact us to confirm the availability and get payment instructions.
How can I pay for the tour? Pay comfortably and safely online at Cielo, a Brazilian major payment gateway. You can use your Credit card You will get the payment link by e-mail.
Can I pay cash in your office? Contact us to create your booking, you can pay with
Read the description, see pictures and video below. Any further doubts? Just contact us!
Description
Que tal provar vinhos locais, cervejas artesanais de Morretes e a famosa cachaça da região? E tudo diretamente nos lugares que produzem! Além de experimentar, você aprenderá sobre a produção artesanal! É um passeio único e exclusivo. Mas pode ficar tranquilo: fazemos paradas estratégicas para você apreciar a paisagem e conhecer o que há de melhor por lá! O passeio tem pausas entre uma degustação e outra!
Serra do Mar Etílica é um passeio inusitado, diferente e cheio de surpresas! Você conhecerá a famosa Serra do Mar paranaense, passando pelo grande trecho de Mata Atlântica e pela famosa Estrada da Graciosa. Além de tudo isso, seu dia também inclui um adorável passeio de barco pela Baía da Antonina com a Serra do Mar como cenário.
Um guia Special Paraná nota 10 acompanhará e passará as melhores dicas e contará histórias para você aproveitar o dia de forma especial, tranquila e segura. Conheça Morretes e Antonina de um jeito diferente.
Somente até 10 pessoas no grupo, perfeito para dividir experiências e fazer novas amizades.   
Atenção: o passeio só irá acontecer com no mínimo 2 pessoas confirmadas. Se você estiver sozinho e não tiver mais participantes na data, ofereceremos a opção de passeio privativo com um adicional ou reembolsaremos integralmente o valor pago caso não aceite.
O consumo de álcool só é permitido para participantes acima de 18 anos!
Vinho, cerveja, passeio de barco e cachaça no mesmo dia?! É só com a Special Paraná!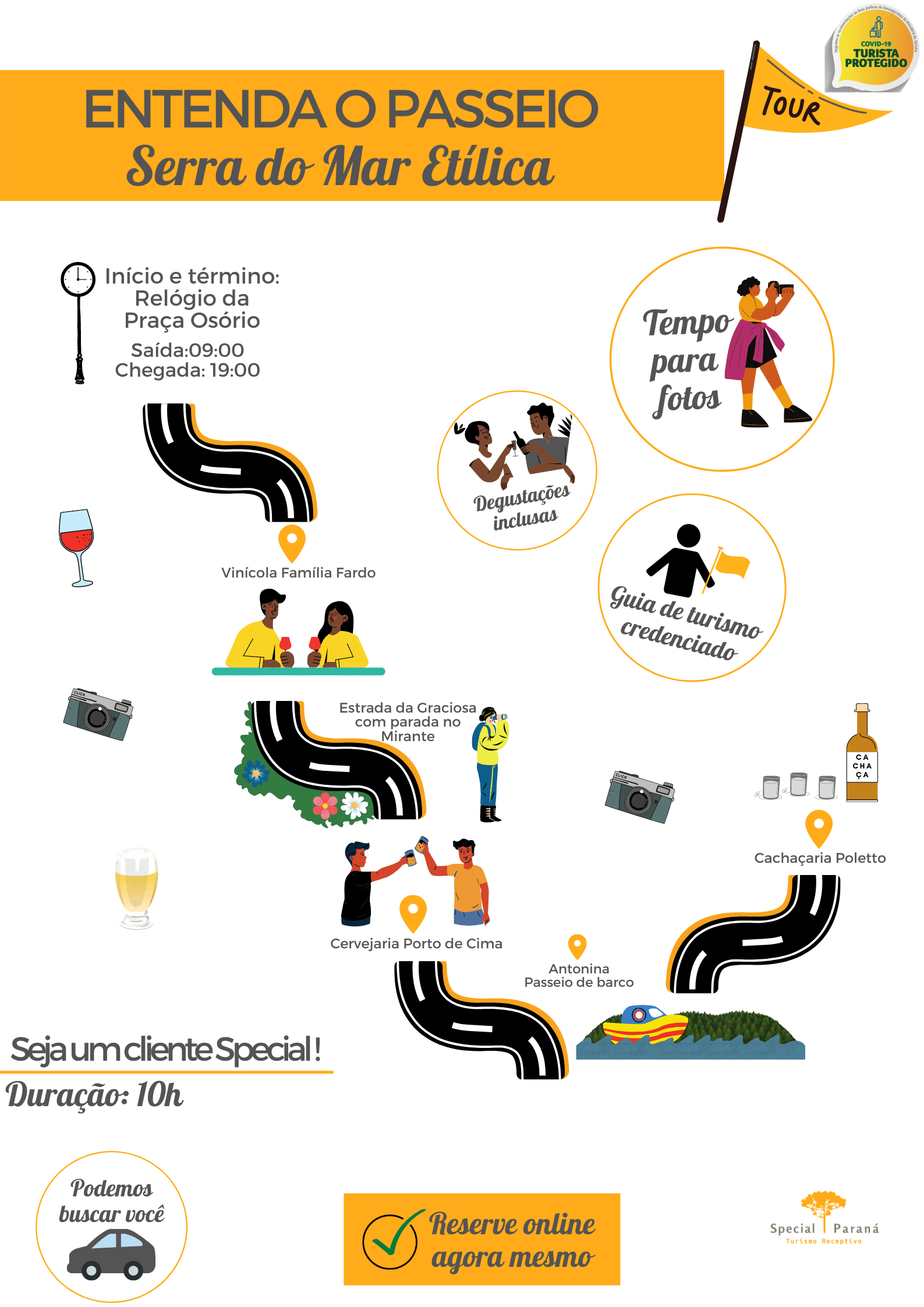 Itinerário do Passeio Serra do Mar Etílica
09h00 Saída do Relógio da Praça Osório no Centro de Curitiba.
Primeira parada: Vinícola Família Fardo, em Quatro Barras. Visita à vinícola e degustação de 3 vinhos diferentes produzidos no local e também de uma tábua de frios.
Em seguida aproveite as paisagens da Estrada da Graciosa a caminho do próximo local.
Chegando em Morretes, vamos conhecer a Porto de Cima Brewery, uma cervejaria artesanal. Prove alguns rótulos de cervejas produzidas ali mesmo no meio da Mata Atlântica.
Teremos tempo para visitar a cidadezinha de Morretes e para almoço (opcional).
Depois do almoço, visita à Antonina e passeio de barco para conhecer um pouco da bela Baía de Antonina, com a Serra do Mar ao fundo.
Antes de voltar à Curitiba, visita à Casa Poletto, que produz cachaças morreteanas. Prove as cachaças deliciosas feitas ali mesmo, seguindo toda a tradição de Morretes.
Volta para Curitiba pela BR-277.
19h00 chegada prevista em Curitiba.
Este é um passeio compartilhado exclusivo da Special Paraná. Se você tiver interesse em uma opção privativa ou prefere em outro dia, entre em contato com nossas especialistas.
Passeio em Curitiba: Serra do Mar Etílica - passeio com vinho, cerveja artesanal e cachaça!
Included Services
Ponto de encontro para o passeio: Praça Osório, em frente ao Relógio (perto da loja O Boticário), no centro de Curitiba. Endereço: Av. Luiz Xavier, 144 – Curitiba (área de pedestres).
Horário de saída: 9h00
Serviços inclusos: transporte em carro ou van executiva (dependendo do número de pessoas no dia do passeio), acompanhamento de guia de turismo credenciado no Ministério do Turismo, visitas guiadas na Vinícola Família Fardo (com tábua de frios e 3 tipos de vinhos), Cervejaria Porto de Cima (degustação de cerveja artesanal) e Casa Poletto (degustação de cachaça) e passeio de barco em Antonina.
Serviços não inclusos: transfer do hotel, refeições, atividades opcionais e despesas pessoais.
DOCUMENTOS NECESSÁRIOS: Adultos e crianças devem trazer seus documentos originais para embarque. Crianças viajando sem os pais ou responsáveis legais deverão trazer autorização de viagem feita em cartório.