Serra do Mar for Booze Lovers
R$470,00
A different tour to visit Morretes and Antonina in a fun way! The tour includes wine tasting, craft beer, cachaça and a boat tour! Come with us in small groups of 4 to 10 persons!
Important
What is a pre-booking? You will send us the booking request to confirm the availability. We are normally very fast – you will have an answer in maximum in 24 hours. Only after we are sure we can confirm your request, you will get an e-mail with payment instructions.
How can I pay for the tour? Pay comfortably and safely online at Cielo, a Brazilian major payment gateway. You can use your Credit card You will get the payment link by e-mail.
Read the description, see pictures and video below. Any further doubts? Just contact us!
Description
What about to try local wines, craft beer and the famous "caçhaça"? Everything where they are produced? You will taste the local flavors and also learn about their production! An unique and exclusive tour. You will have strategic stops to see the landscapes and also visit the best spots in both towns surrounded by Atlantic Rain Forest. The tour has pauses between each tasting!
Serra do Mar for Booze Loversis a fun and different tour – let us amaze you! You will see "Serra do Mar", a mountain range where the largest part of Atlantic Rain Forest of Brazilis located. You will see also the many curves ofEstrada da Graciosa. Besides that, your day will also include aboat tour in Antonina´s Bay. The rainforest as background is simply beautiful.
A local guidewill be with you and tell you curiosities and make the tour more interesting, safe and fun. Visit Morretes and Antonina in a fun way.
Only 10 persons per group – perfect to share experiences and make new friends.
Attention: the tour will take place with at least 4 booked persons. If we have less participants, we will inform you the additional fee for a smaller group.
Alcohol consume is allowed only for people older than 18 in Brazil!
Wine, craft beer, boat tour and cachaça the same day?! Only by Special Paraná!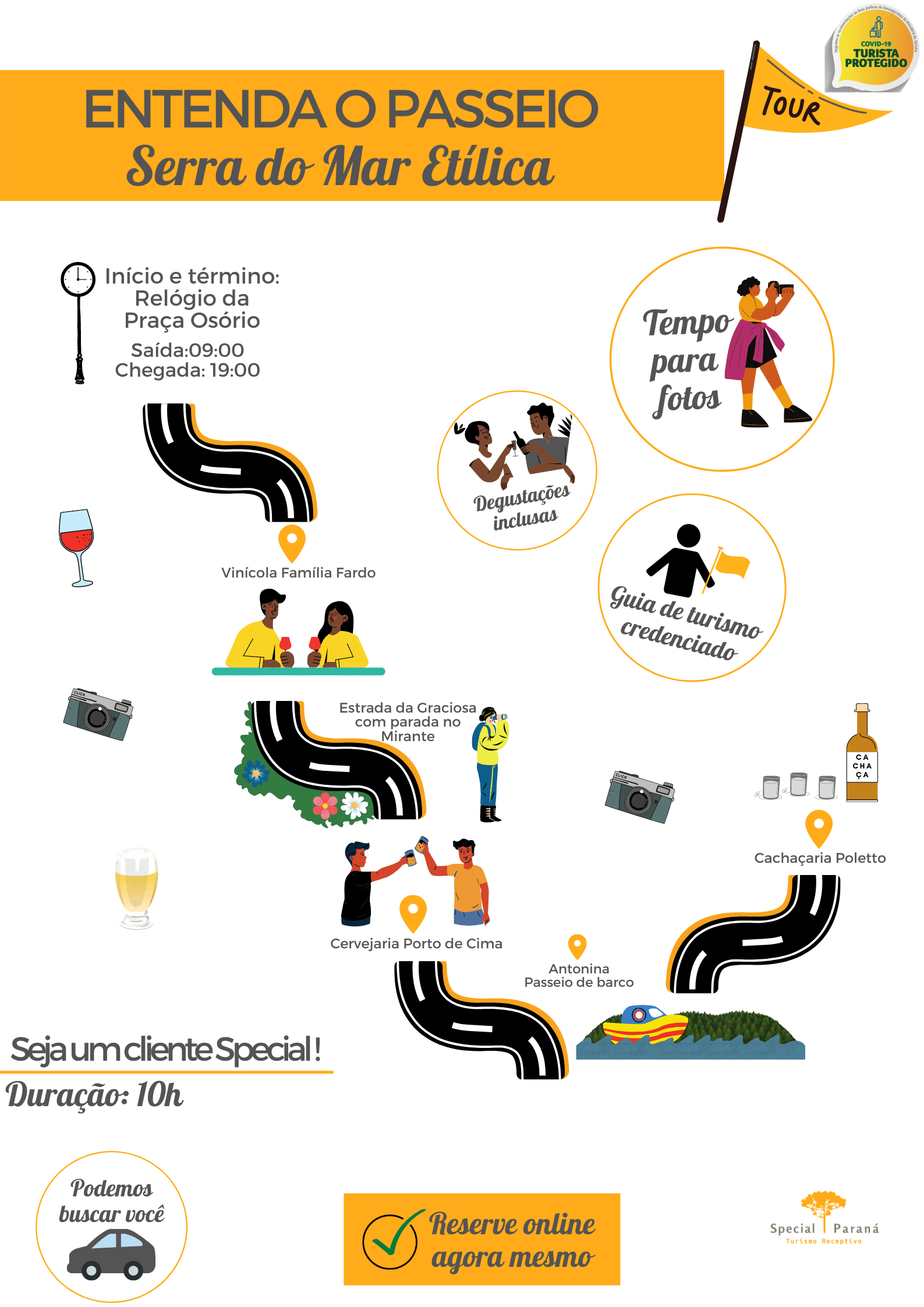 TOUR ITINERARY
9 AM: departure from Praça Osório, downtown Curitiba.
Next stop: Família Fardo Winery about 50 minutes from Curitiba. Visit to the winery and tasting of 3 different wine labels. You will also have a cold platter with cheese, ham and other delicacies.
After that you will see the landscapes and the rain forest while going to Morretes along Estrada da Graciosa.
On the hills foot you will visit Porot de Cima Brewery, a craft beer producer owned by an American-Brazilian couple. Try different craft beer types produced there, facing the rain forest.
Free time to visit the small town of Morretes and for lunch (optional).
After lunch, visit to Antonina and boat tour to see the bay. You will see mangroven and the mountains with rain forest as background.
Before heading back to Curitiba, visit to Casa Poletto, that produces Morretes typical "cachaça". Try the local cachaças (sugar cane spirit), produced on spot with all local tradition.
Return to Curitiba via BR-277.
7 PM – estimated time of arrival in Curitiba
This is a shared tour, exclusively by Special Paraná. If you want a private tour or prefer other day, please contact our specialists.
Passeio em Curitiba: Serra do Mar Etílica - passeio com vinho, cerveja artesanal e cachaça!
Included Services
Meeting point:Praça Osório, in front of the clock – close to the shop Boticário, downtown Curitiba. Adress: Av. Luiz Xavier, 144 – Curitiba (pedestrian area).
Departure time: 9 AM
Include services: transportation by car or van (according to the number of participants), licensed official tour guide, guided visits at Família Fardo Winery (with cold platter and 3 different wine sorts), Porto de Cima Brewery (with craft beer tasting) and Casa Poletto (cachaça tasting) and a boat tour in Antonina.
Not included:pick up service, meals, optional activities and personal expenses.
NECESSARY DOCUMENTATION: adults and children must bring their original passport or Brazilian ID-card to the tour. Children travelling without their parents or legal guardians must bring official travel authorization.