Parque Vila Velha
R$332,00
Um passeio clássico e lindo para todos! Grupos de 2 a 10 pessoas com saída de Curitiba. Aproveite a natureza em trilhas tranquilas com acompanhamento de guia.
Important
How does the booking work? The most popular tours have immediate confirmation if seats are available and when booked at least 48 hours before. You will book online and as soon your payment is authorized, you will get the confirmation by e-mail.
And if the booking is for less than 48 hours later? In this case, contact us to confirm the availability and get payment instructions.
How can I pay for the tour? Pay comfortably and safely online at Cielo, a Brazilian major payment gateway. You can use your Credit card You will get the payment link by e-mail.
Can I pay cash in your office? Contact us to create your booking, you can pay with
Read the description, see pictures and video below. Any further doubts? Just contact us!
Description
Uma obra da natureza esculpida durante 300 milhões de anos a somente 90 km de Curitiba. O Parque de Vila Velha impressiona com sua beleza natural. Um dos passeios mais clássicos aqui em Curitiba, na região dos Campos Gerais do Paraná.
Ao chegar ao parque primeiramente faremos a trilha dos arenitos. São somente 2 km com paradas nas formas esculpidas pelo vento ao longo do tempo. A trilha é tranquila e pavimentada, ideal para toda a família. Nosso guia estará acompanhando para contar todas as curiosidades e assim você não perderá nada.
Depois pegaremos o ônibus do parque para as Furnas e Lagoa Dourada, outros dois atrativos famosos do parque. Você também encontrará algumas atividades extras, como tirolesa, arvorismo e balonismo que dependendo do tempo do passeio você poderá reservar na hora diretamente np parque.
Ao fim do passeio tempo para almoçar (opcional). O parque conta com um restaurante típico da região, Restaurante Girassol, com ambiente informal. Uma das especialidades é o famoso "pão no bafo".
Somente 10 pessoas no grupo, aproveite para dividir ótimas experiências e fazer novas amizades!
Vila Velha com um guia nota 1000 é com a Special Paraná!
Atenção: o passeio só irá acontecer com no mínimo 2 pessoas confirmadas. Se você estiver sozinho e não tiver mais participantes na data, ofereceremos a opção de passeio privativo com um adicional ou reembolsaremos integralmente o valor pago caso não aceite.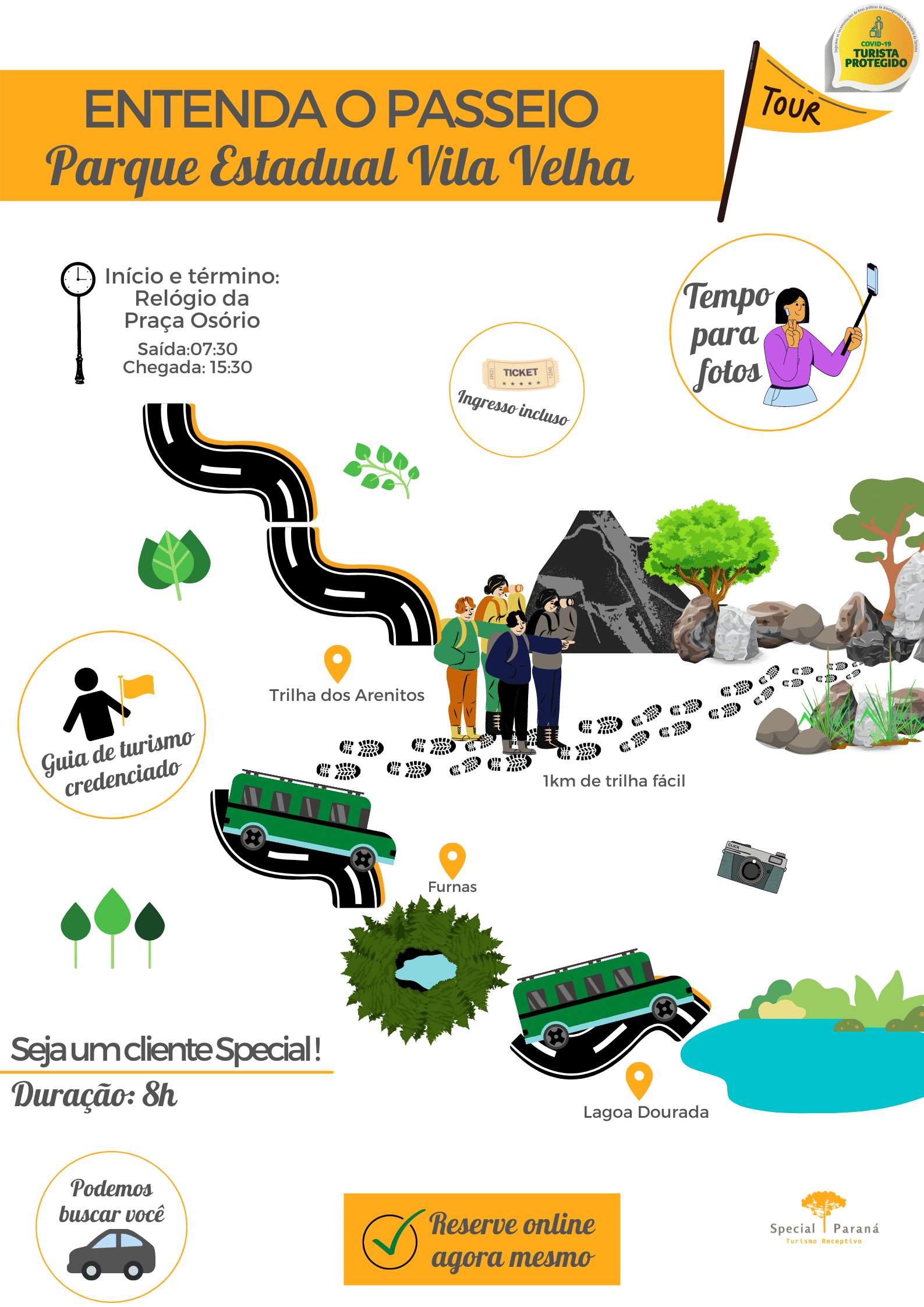 Itinerário do passeio Parque Vila Velha 
07h30 Saída do Relógio da Praça Osório no Centro de Curitiba
Viagem sentido Ponta Grossa para o Parque de Vila Velha.
09h00 Chegada prevista no parque.
09h00 às 12h00 aprox. Visita a Furnas, Lagoa Dourada e Arenitos com parada para fotos e apreciar a natureza
12h00 às 13h30 – Tempo livre para almoço (opcional)
15h30 chegada prevista em Curitiba.
Este é um passeio compartilhado exclusivo da Special Paraná. Se você tiver interesse em uma opção privativa ou prefere em outro dia, entre em contato com nossas especialistas.
Included Services
Ponto de encontro para o passeio: Praça Osório, em frente ao Relógio (perto da loja O Boticário), no centro de Curitiba. Endereço: Av. Luiz Xavier, 144 – Curitiba (área de pedestres).
Horário de sáida: 7h30 
Serviços inclusos: transporte em carro ou van executiva (dependendo do número de pessoas no dia do passeio), acompanhamento de guia de turismo credenciado no Ministério do Turismo, ingresso de entrada no Parque Vila Velha (Arenitos, Furnas e Lagoa Dourada).
Serviços não inclusos: transfer do hotel, refeições, atividades opcionais e despesas pessoais.
DOCUMENTOS NECESSÁRIOS: Adultos e crianças devem trazer seus documentos originais para embarque. Crianças viajando sem os pais ou responsáveis legais deverão trazer autorização de viagem feita em cartório.