Parque Vila Velha
R$360,00
A classic and impressive tour for all! Small groups of 4 to 10 persons departing from Curitiba. Enjoy nature in easy trails with a tour guide.
Important
What is a pre-booking? You will send us the booking request to confirm the availability. We are normally very fast – you will have an answer in maximum in 24 hours. Only after we are sure we can confirm your request, you will get an e-mail with payment instructions.
How can I pay for the tour? Pay comfortably and safely online at Cielo, a Brazilian major payment gateway. You can use your Credit card You will get the payment link by e-mail.
Read the description, see pictures and video below. Any further doubts? Just contact us!
Description
A masterpiece made by nature during 300 million years and only 90 km from Curitiba. Parque Vila Velhaimpresses with its natural beauty. One of the classical tours in Curitiba to the region called Campos Gerais.
Walk on the trail to the sandstones. Only 2 km with stops in the sandstones with very unsual forms along the path. The trail is paved and easy for all ages. Our guide will be with you and you will not miss any detail.
Then you will take a bus to Furnas and Lagoa Dourada (Golden Pond), other beautiful sceneries of the park. There are some optional activities auch as ziplining, tree climbing and ballon. You may choose on spot.
At end of the tour time for lunch (optional). You can eat at the park´s restaurant or take your own food if you prefer.
Only 10 persons per group – share your experience and make new friends!
Vila Velha with an A+ tour guide – only by Special Paraná!
Attention: the tour will take place with at least 4 booked persons. If we have less participants, we will inform you the additional fee for a smaller group.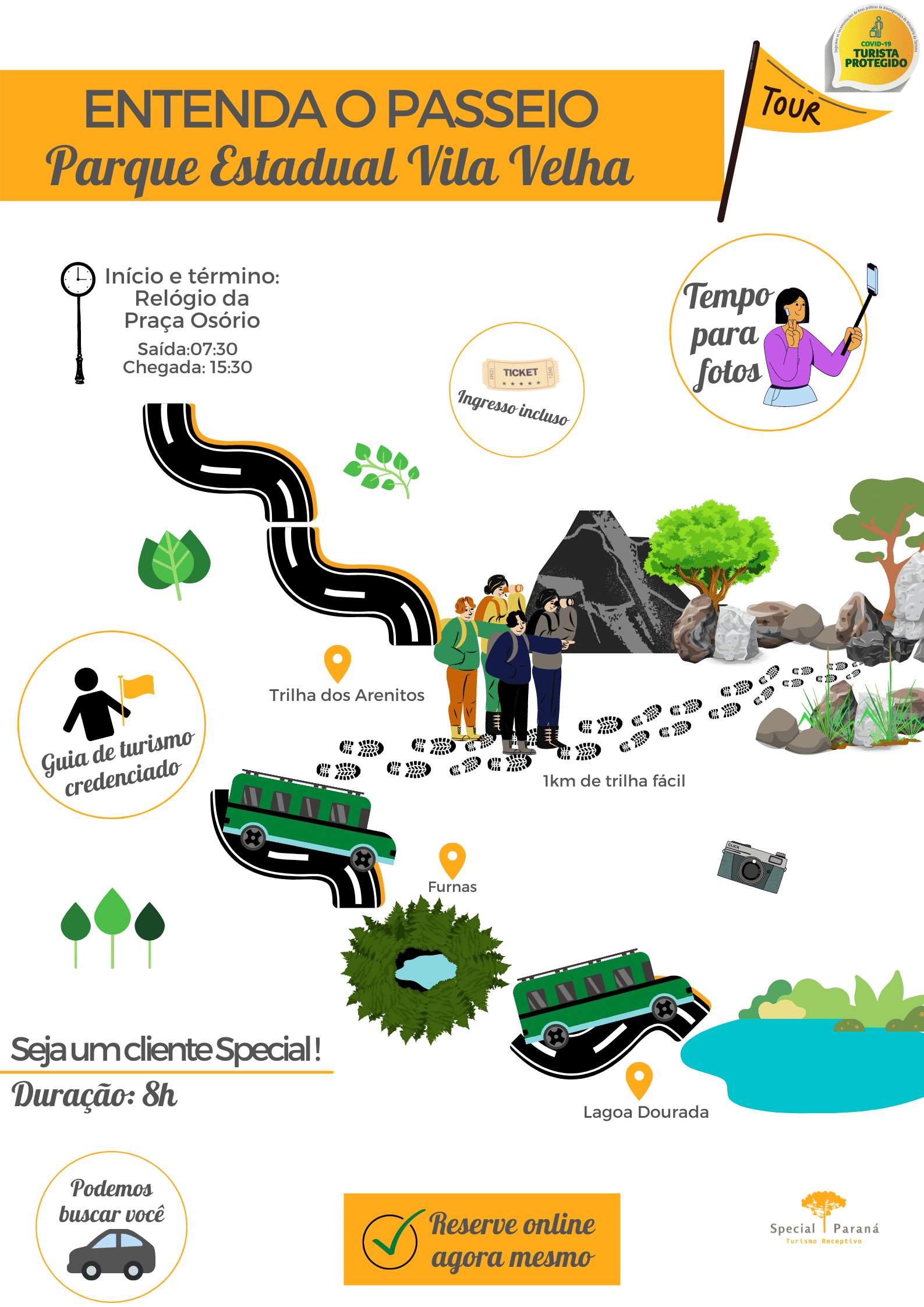 VILA VELHA TOUR ITINERARY
7:30 am – departure from Praça Osório, downtown Curitiba
Trip to Ponta Grossa to Parque Vila Velha.
9:00 am – estimated arrival time at the park.
9 am to noon visit to the sandstones, Furnas and Golden Pond with stops for pictures and enjoy the nature
noon to 1:30 PM – free time for lunch (optional)
3:30 pm – estimated arrival time in Curitiba.
This is a shared tour, exclusively by Special Paraná. If you want a private tour or prefer other day, please contact our specialists.
Included Services
Meeting point:Praça Osório, in front of the clock – close to the shop Boticário, downtown Curitiba. Adress: Av. Luiz Xavier, 144 – Curitiba (pedestrian area).
Departure time: 7:30 AM
Included services:transportation in car or executive van (depending on the number of participants), licensed official tour guide, entrance fees.
Not included:pick up service, meals, optional activities and personal expenses.
NECESSARY DOCUMENTATION: adults and children must bring their original passport or Brazilian ID-card to the tour. Children travelling without their parents or legal guardians must bring official travel authorization.